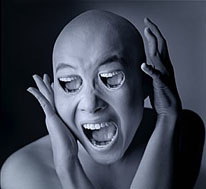 What's a "haunted adventure?"
Maximum Terror takes the tired, old Halloween-time haunted house and amps it up. The result is what we like to call a haunted adventure: an intense experience designed to get your skin crawling and your blood racing.


Watch the strong reduced to the weak. See the weak dragged off into the darkness.

Make no mistake: we are out to scare you.
What if there's a long line?
1.) Wait, or

2.) Purchase a
Speed Pass
, which takes you right to the front of the line. Speed Passes are available at the ticket booth for $25 each.
Please note that discounts do not apply to Speed Pass purchases.
Is it okay for kids?

That depends on whether your definition of "okay" is "will need therapy down the line."

The monsters, scenes and surprises along the way are
not appropriate for kids under 10.
Children over 10 should be fine — although we will work hard to make sure they have trouble sleeping that night. (Parents: don't think you're getting off easy. We've got mom-and-dad sized shrieks, too.)

How should I dress?
You'll be waiting in line outside, and this year's zombie containment facility is unheated — and therefore extra chilling. Since your blood may run cold, we suggest you dress warmly.
Got rules?
It's our goal that everyone attending Maximum Terror has a thrilling, enjoyable night out with fiends. We ask that you keep these rules in mind when attending:

- No smoking, alcohol or profanity.
- No running
- No touching actors or props
- People with medical conditions that may be affected by special effects (strobes, fog, black lights, etc.) should not attend.
- Enter at your own risk. Maximum Terror or its sponsors bear no responsibility for accident or injury. Not recommended for pregnant women or children under 10.


Not obeying these rules is cause for immediate removal!
Did that guy with the camera take my picture?
Could be. Event attendees may be included in photographs and/or video taken for media or promotional purposes. Attendance at Maximum Terror implies consent for Maximum Terror to use such photographs and/or video images for media promotional purposes.
Can I spook my friends?
We're always happy to take on a new body. Volunteer to be a frightener. No scaring experience necessary. We'll supply the masks, costumes and makeup. You bring the growls and screams.
I got scared...can I have my money back?
Poor baby. But no chicken-out refunds.